Hi, everyone!
I hope you are all doing well. I would like to ask some help with these issues on our RACHEL-Plus 1.0. I am currently exploring on how our team can maximize the use of RACHEL. I just found out recently that Moodle and Kolibri in RACHEL can be used as a learning management system.
I tried to access Moodle using RACHEL but it gives me a 404 - Not Found error. I tried reinstalling Moodle using the RACHEL Admin interface and restarted the device hoping that it will solve the problem but it gives me the same error.
I gave up with Moodle and tried Kolibri. When I installed Kolibri, all the modules in the main RACHEL page vanished. When I uninstalled the Kolibri module, other modules appeared again.
Before posting this, I tried looking for solutions like upgrading the firmware on our RACHEL-Plus 1.0 but it seems like the link for the image file is broken. (Referring to this post: Update Firmware on RACHEL-Plus 1.0 (WRTD-303N Model))
I don't know if this will help with the diagnosis, but I will attach this information just in case.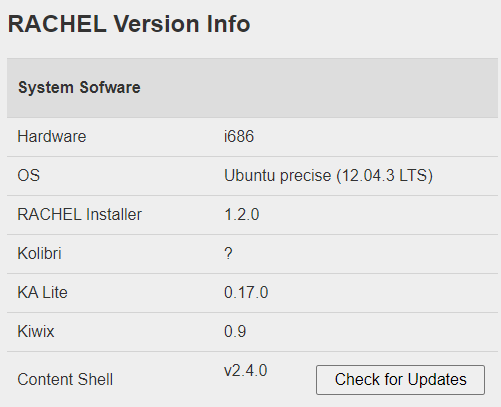 I hope this problem can be solved so that we can finally make use of Moodle or Kolibri. We already have resources for our customized courses and we can't wait to offer them to our students.
Hoping for a response! Thank you.