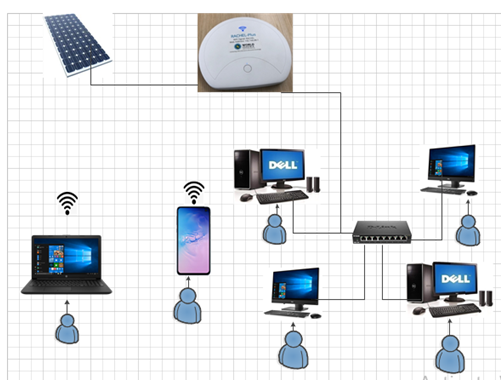 I design this topology to implement in the classroom. Anyone can help me some idea about this topology.
Hi @inamusu.martins – this is very nice. The only issue you need to be aware of is that the RACHEL-Plus device does not have a DHCP over LAN. That means your switch, also needs to be a router (or some alternative like adding DHCP to one of the desktop computers). Once you have that DHCP setup, the ip.address for the desktop computers to access RACHEL will be assigned by the router, so you will have to find it.
Thank you very much dear @jeremy for a good idea, I will follow your idea.
Great. I use my Rachel on WiFi as well as one desktop. For the desktop I use the LAN IP address provided. If I connect it to the uplink port on a switch, can Rachel be accessed by more than One Desktop?
I don't think you need to connect it to the uplink port, but rather connect it to any other normal LAN port. From there, you can have many desktops access the device over the LAN.
In 2018 I installed one RACHEL plus into 3 different apartment far apart from each other i.e. in to a lab, in teachers staffroom and a separate classroom for students. I used one network switch and two separate router and it's working perfectly as we speak.
The lab has 30 desktops and some laptops, the classroom has some laptops and teachers in the staffroom also have their laptops as well.
Hi Inamusu,
I agree with Jeremy. A router either in place of the switch or in conjunction with the switch is a good idea. It will function as your DHCP for your LAN network. I assign a static IP address of 192.168.1.2 to the RJ45 interface for RACHEL, and then set up a static route in the router that says to get to 192.168.88.0 use gateway 192.168.1.2. Another way to do that is to configure DHCP to always assign 192.168.1.2 to the MAC address of RACHEL, then you don't have to configure RACHEL with a static IP. If you need configuration details, I can email them to you for Linksys & Netgear routers.
Regards,
LarryY
I use old routers from ISPs to provide DHCP. They also act as an additional access point and small switch. I have used this with 12 devices with the new Raspberry Pi 4.
This is a good idea also, just make sure you only have one DHCP server on the LAN. Soon, RACHEL will come with DHCP over LAN built in.
Hello Larry, Please give mos some information about configuration the IP add. Thank you.
Hello Dear Jerremy, if I create server in another computer not in the Rachel, do you have any idea?
the content of material, such Khan Academic, wiki can we change to the Portuguese language?