Hello,
If I want to create a custom module 'Textbooks for my country' by myself, is it possible?
Yes! You can just collect the textbooks in a google drive folder and send us a link. We can make the module no problem. Which country are you in?
@khinelay – the Wikipedia and Wiktionary pieces are easy to add thanks to some software called Kiwix. To create your own module, you just need to create some HTML to navigate around your collection of textbooks. If you find someone with HTML experience, it's a very easy job.
Thank you. So, I can create my own modules for Rachel. I created some static websites for Khan Academy (Burmese).
And Wikipedia(Myanmar) and Wiktionary (Myanmar), can you make a module for us?
Thanks,
khinelay
Yes, if you provide me the content in a Google Drive or Dropbox or FTP transfer
I've got CMAL100 in hand. I've provided the contents in Wikipedia (Myanmar) in the google drive.
Look forward to hearing from you.
Thanks, sorry I did not see this earlier. What do you want the module to say? What language is this in? Please put together a couple sentences which will show on the RACHEL homepage explaining this module in its language.
What do you want the module to say?
The Burmese Wikipedia is the Burmese language edition of the free online encyclopedia Wikipedia. This edition was started in July 2004, and has about 39,000 articles as of June 2018.
What language is this in?
Burmese language (Myanmar language which is used in Myanmar (Formerly known as Burma).
I hope I answered your questions. Thank you so much.
Thanks, I was thinking you could write that out in Burmese instead of English. Is that possible?
yes, it is possible. I can write it in Burmese & English.
The Burmese Wikipedia is in Burmese:
"ဝီကီပီးဒီးယားသည် သုံးစွဲသူများက ပူးပေါင်း၍ ရေးသားတည်းဖြတ်သော စွယ်စုံကျမ်းဖြစ်ပါသည်။ ဝီကီဟု ခေါ်သော ဝက်ဘ်ဆိုက် ပုံစံတစ်မျိုးကို အသုံးပြု၍ ပူးပေါင်းရေးသားခြင်းကို အဆင်ပြေစေရန် စီမံထားခြင်း ဖြစ်ပါသည်။ သုံးစွဲသူများမှ နာရီအလိုက် ပြင်ဆင်မှုပေါင်း များစွာကို ပြုလုပ်၍ ဝီကီပီးဒီးယားကို ပို၍ကောင်းမွန်အောင် ဆောင်ရွက်နေကြပါသည်။"
When I gave the RACHEL to the monastic school in Myanmar (Burma), children were so excited to use it and they loved the phonics & stories. For Myanmar (Burmese) contents, I use the Burmese, not English.
Thanks,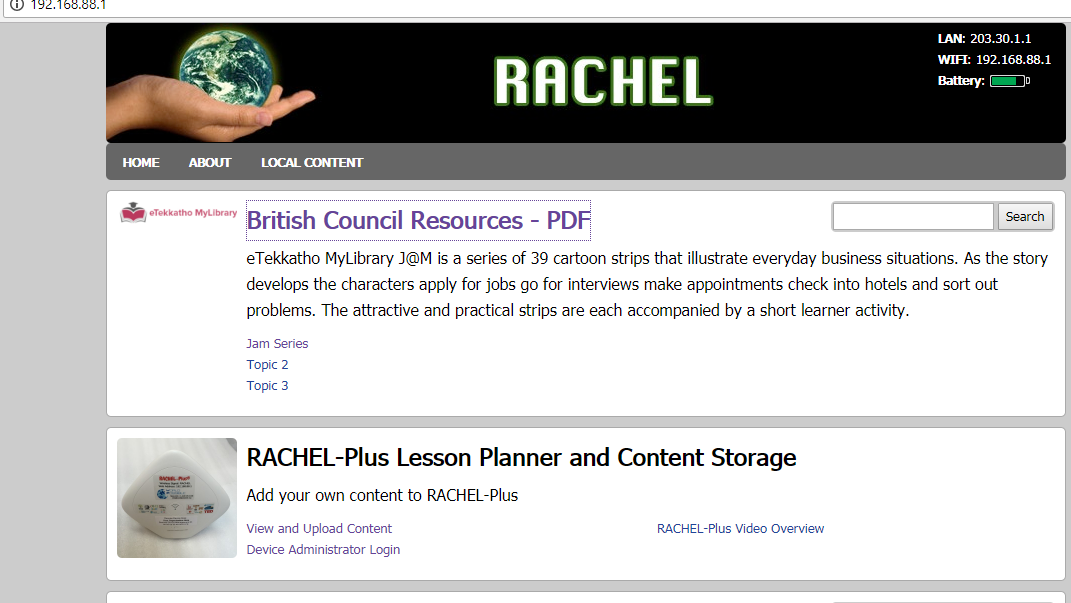 I can create my own module now. That's not a big deal for others but I'm happy to inform that I can create and upload my own module.



Hi khinelay, I am purchasing a Rachel Plus 3.0 to be introduced to our schools here in Fiji, I would also like to create a module for our local content, please would you email me (mataiwq@gmail.com) the steps you took.
Hello mataiwq,
I sent you an email. If you would like to know anything about it, please let me know. I just start doing it and we can share our experiences.
Cheers!
Hello, I am a RACHEL Plus enthusiast based in Kenya and would also be very pleased to know the steps of how to add your own module. Kindly, email me the steps at mbogosam@gmail.com. Thanks in advance.
Dear mdbogo,
Nice to meet you. I'm following this guide https://github.com/rachelproject/module-template to create a own module.
I've sent you an email also. To create a module for my static website,
I use this link as a reference, https://github.com/rachelproject/module-template.
In the rachel-index.php, I added the module name, description, etc.
Put that rachel-index.php into your static website.
Give your static website folder a name. eg: 'en-Kenya'
Put that folder into your RACHEL+ module's folders.
Drop me a line if you need to know something. I can tell you as much as I know. Cheers!
Hi, we are a Informatic school in cameroon,association linux friends Limbe cameroon, we begin to work with Rachel. In our school we use moodle as elearning platform. The main problem of Rachel is to adapt the learning stuff to the reality of the region. That's why we would like to change the lesson.
So first question:
Is moodle behind the lesson in Rachel?
If yes it should be easy to update, create delete new course as we can do it in moodle.
Else how to create update delete lessons in Rachel
@luglimbe I am also interested in developing a moodle for the RACHEL. But I'm still researching it. Some recommends MoodleBox.
So, the expert @jeremy will know more about it.
Kind Regards,
Khinelay
Hi everyone, we do currently have Moodle on RACHEL–you can view it here at http://oer2go.org/viewmod/en-moodle, though we don't have an online preview available. It makes it easy to organize lessons. We have also recently added Kolibri to RACHEL, which also has features for organizing content, creating lessons and quizzes, etc.